What the DELUXEWARE's Planning&Development Is All About
企画開発を職人達と遂行する




最新設備が一世を風靡し、早く正確にそして安価に製造出来るメリットから事業拡大を夢見て日本の産地は古い設備を廃棄し職人からシステムへ以降した。当初は、コストパフォーマンスの恩恵に市場は手を挙げて歓迎したが、個性の時代になった現代は旧式設備による風合いを求める至高顧客が老若男女問わず増え出した。ところが、思わぬ市場転換と製造の国外流出の流れから現代の需要と距離が開いてしまった産地は多い。
時代の波に負けず、必死に守り抜いた旧式設備と人的技術を日本全国探し当てモノ創りを始めた2005年。今では、デラックスウエアのモノ創りに共有共感を持って取り組んでくれる職人と工場が本当に増えたと実感する。これから私達だからこそのモノ創りが始まる。





Carrying Out Planning&Development Jointly With Craftspeople





During the days of fast economic growth, when the craze for the latest technology swept across the textile industry, it was common for many production centers around Japan to discard the old equipment that had been carefully handled by generations of skilled workers to replace them with the more efficient "system," because it enabled them to produce in a faster, more precise and less costly manner, in the hope of expanding their business. At first, the market welcomed this move wholeheartedly because of the benefits of cost performance, but nowadays as the tide is turning in favor of individuality, more and more customers of discerning taste, young and old, men and women, are seeking that unique feel in the materials only the old-fashioned equipment can produce. Many production centers, however, are having trouble to close the gap between the demand of those advance-thinking customers and the actual production system, because such transformation was quite unexpected and much of the production itself has been moved abroad. It was in 2005 when we started our process of creation by first searching all over Japan for the old-fashioned equipment desperately protected against the tide of times and highly-skilled human resources. Today, we do feel that the number of craftspeople and factories that approve and support the DELUXEWARE's way of thinking and are ready to make every effort to do whatever we ask of them has really increased. It's the beginning of our process of creating things in the manner only we can afford.




Developing Materials in Domestic Production Centers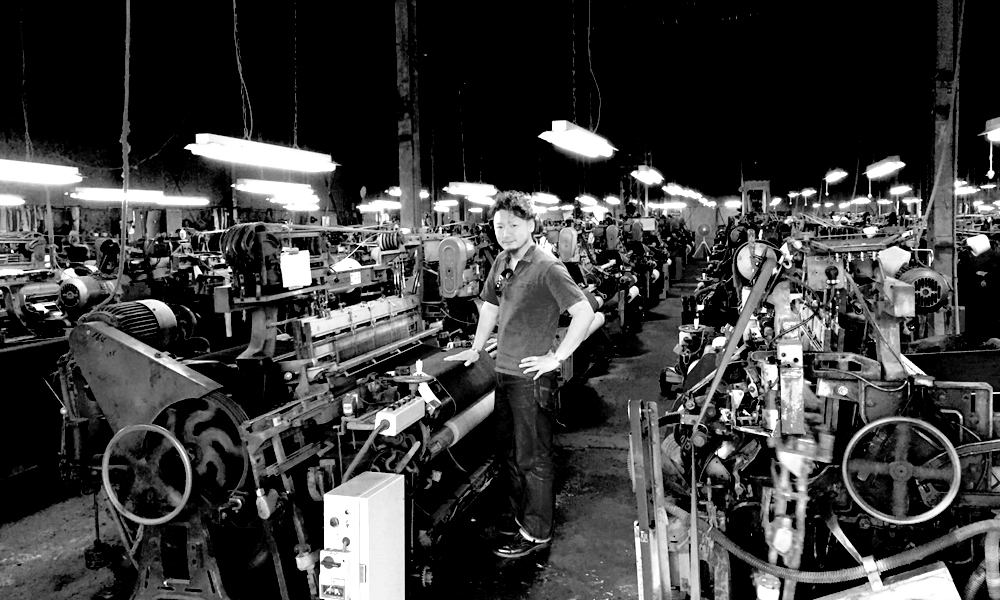 農作物同様に、日本全国に産地が存在する。古くから生業として営み、積み重ねた経験と技術は残念ながら現代に遺憾なく発揮する場は少なくなってきている。

一世紀前の織機や編機、または付随する設備。人的技術に付随するそれらの機械的設備は残り少ないが、生み出される素材や表情には現代技術では再現不可なモノも多く含まれる。
Clothing materials have their own particular production centers around Japan, just as farm products do. Their business has been handed down from generation to generation, accumulating rich experiences and traditional techniques, which, unfortunately, are finding less and less places to show their true worth in this modern world.

Those centuries-old looms and knitting machines and their attachments and their operators may be on their way to extinction, yet the materials and nuances they produce have various aspects that the modern technology will never be able to reproduce.

Working With Dedicated Craftspeople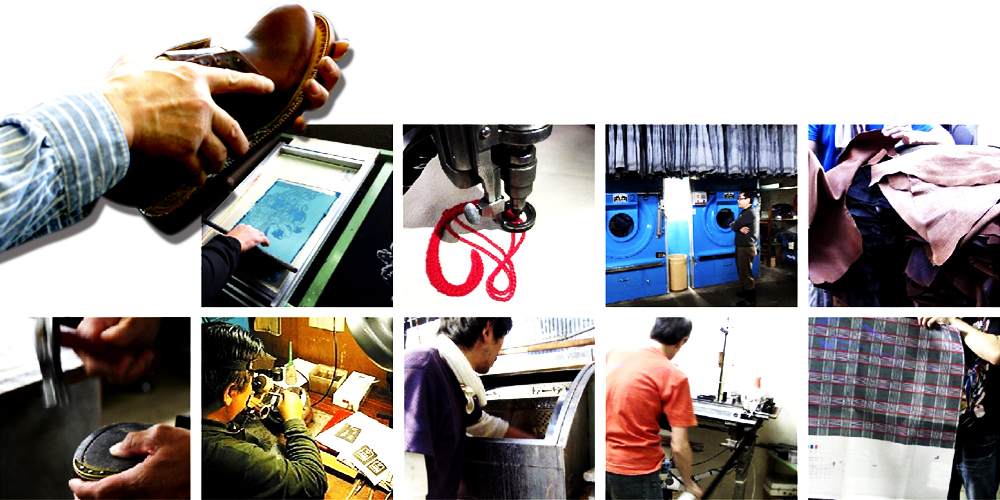 システムが職人技術に勝るまでどの位の時間を必要とするだろう。例えば、染料濃淡を表現する手捺染プリント、裏当布を使用しない刺繍、ヤレた表情を精密に掘りあげる彫刻、その日の気温と湿度で変わる染色など、挙げればきりがないほどにプログラムに落とし込めない技がある。

同じものをより早く、より多く、そしてより安価に製造することを良しとした時代を経過し、創り込まれた作品を求め品質回帰を始めた現代。しかしながら、これまで失った時間は戻ってくることはなく、需要と製造レベルの差は広がりを見せる中、ここにその職人・技術が集結していることに感謝する。
How long will it take before the "system" takes over the skills of a craftsman? There are countless fine techniques that can't possibly be incorporated into the program, such as hand-dyed prints boasting subtle shades, embroidery that doesn't use a lining, meticulously carved expressions, and dyes that change according to the day's temperature and humidity, to name but a few. Those days when it was considered the best to mass-produce identical goods ever faster, more and cheaper are gone and now we are returning to the age of quality, when we want more of the lovingly crafted goods. While it's sadly true that the lost times will never be returning and the gap between the demand and the level of production process is becoming ever wider, we are grateful that here at DELUXEWARE skilled hands and time-honored techniques have gathered and joined forces to achieve our goals.

Special Facilities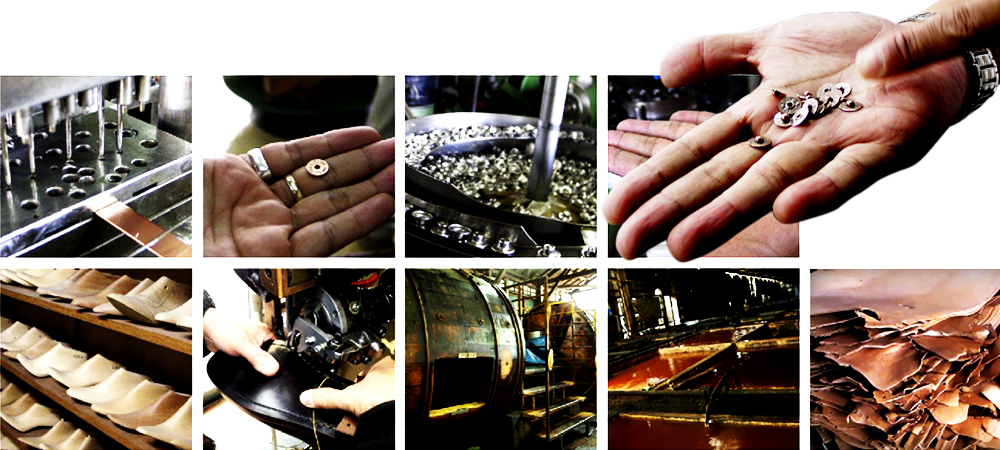 モノ創りにおけるパーツをわざわざ製造する。日本を見渡すと、当り前にパーツは入手出来るうえ安価なものも多いが、デラックスウエアでは数ミリ程度のパーツ創りに本気で取り組む。それはこの先100年も存在し後世に存在する商品であり続けるための願いから。

アメリカ住宅のように、綺麗に時を重ね味わい深い物件ほど高価になるように、どんな環境であろうと綺麗に価値を重ねるため開発は不可欠である。拘りの開発は、この先を考慮したモノ創りだからこそ徹底したい。
We take the trouble to manufacture all the parts necessary to create our products ourselves. Needless to say, any part is easily available anywhere in Japan at often a low price, yet we at DELUXEWARE are committed to make on our own even a few-millimeter part. That is because we want our products to last the next 100 years and beyond and show their presence in the future. Those houses we see in the States, for example, become more valuable as they age beautifully. It's the same with product development, which is essential to make the products become more valuable and beautiful as they age in whatever environment they are in. We commit ourselves to the product development precisely because we are looking into the future when we create things.


DELUXEWARE Is Committed To...